1. What is The App Match Platform?
App Match is a "Do It Yourself" service that allows you to create a Progressive Web App (PWA), a native Android app, and a native iOS app by yourself.
This DIY tool is made for people who don't know how to code, but who nevertheless want to create a beautiful PWA or Native app.
Starting from a graphic interface the back office, you can build your own application step by step.
PWA works on any browser, both desktop, and mobile.
Native apps are specifically developed for iOS and Android. They can later be published on Apple's App Store and the Google Play Store.
2. How does App Match work?
Building an App with App Match is done in few steps.
Get Started page
When you create your project, you land on the first page of your back office:
This page is your starting point to build your project. You can work on each item of the list independently.
Once the list is completed, your app will be ready to be published.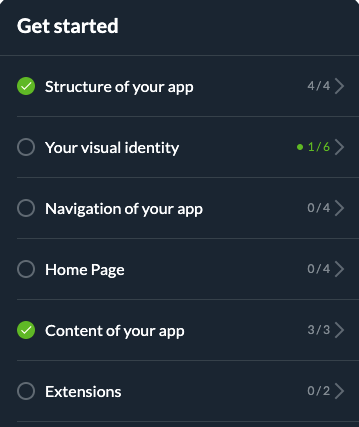 While following all steps, make sure to read all the useful Tooltips we give you so you can quickly get a hand on how the platform works.
Once you've applied your settings in one of the Get started steps or if you are browsing other pages of your back office, go back to your Get started page by clicking on it in the left swipe menu, or on the pop up shown after completing a task.
In order to move on to the publication's steps, you must first complete all steps from the first block "My App".
When all the steps are validated (everything must be checked in green), the publication blocks will be accessible.
You can chose to display or close a block of steps.
A more detailed help concerning the main steps is available here: Steps to create your App.Dashboard page
Once you have published your app, or completed My app block + block(s) of publication. The get started page will become a dashboard instead of a step by step page. 
This page displays the main information and figures after the app publication.